As more and more headlines appear depicting the heavy impact of the rising cost of living and energy prices, we have conducted a study to identify the most pressing concerns for the country's workforce and, perhaps more importantly, how the working public has maintained stability in their finances. We've also looked at LinkedIn statistics to show some cities and job functions with the best hiring chances.
Concerns for the future are high among UK workers
By conducting a YouGov survey of 1,000 respondents, we have confirmed that three-quarters of the adult population of the United Kingdom have been affected in some way by rising costs due to the Cost of Living crisis. Those aged 25-39 report the worst impact; One in five adults (20%) within this group feel strongly affected by the Cost of Living crisis, with 61% reporting being "quite affected".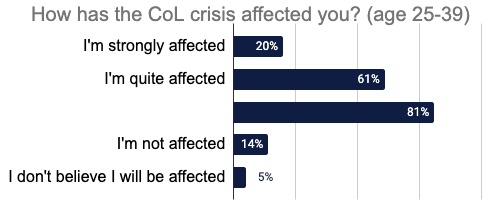 Concerns for the future are high among this age group, too, with a combined 88% claiming to be concerned about the impact the Cost of Living crisis will have on their personal finances (35% report being "very worried", while 53% "have some concerns").

Overall financial pain points lie in a few key areas; 28% of all respondents expressed concern over their ability to afford household bills, while 15% are worried over their ability to afford the rising cost of food shopping. Concern for the impact of the Cost of Living crisis on the country's economy rests predominantly with those aged 60+, with 21% of respondents in that age group reporting the highest level of concern over other groupings.

Majority of people now limiting spend across the board
With energy prices increasing and weekly food shopping becoming more expensive, UK workers have resorted to various methods to reduce living costs and weather the storm. Alongside 58% of Britons now limiting gas and electricity use, over half (65%) of respondents have reduced spending on lifestyle, while one in four adults (26%) is now using savings to contribute towards bills.
But what changes, if any, are people making in their employment situation? Does the answer to affordability lie in taking on higher-paid jobs, multiple jobs or new jobs, or is the potential risk of changing stance on stable employment too great?
Pursuing a higher and more stable financial position
In 2022, the average full-time annual salary across the UK stood at £33,000, an increase of 5.48% on an average wage of £31,285 the previous year. Even so, 10% of our survey respondents report working overtime to support their income during the Cost of Living crisis.
Furthermore, almost a third (27%) of our survey respondents report considering changing jobs in response to the Cost of Living crisis, though only 6% say they have changed jobs to increase their income. Once again, adults aged 25-39 appear to have seen the most considerable change to circumstance, with one in ten (9%) respondents needing to change jobs to improve their financial position in the face of rising everyday expenses.

With a third of the working population considering taking on a new job to combat the Cost of Living crisis, how healthy is the UK's current job market? Which are the best (or perhaps safest) areas and specialisms to consider moving within?
Which UK city offers the most job opportunities?
At the time of writing, LinkedIn shows a total of 719,836 vacancies across the United Kingdom. With over a million businesses housed in the country capital, London tops the list as the UK city with the highest number of job vacancies on LinkedIn, at 184,830 postings. Birmingham appears second on the list with 28,577 vacancies (a difference of 156,253 from the top spot), while Bristol appears third with 27,189 vacancies posted.
Top 50 UK cities, based on the number of LinkedIn job vacancies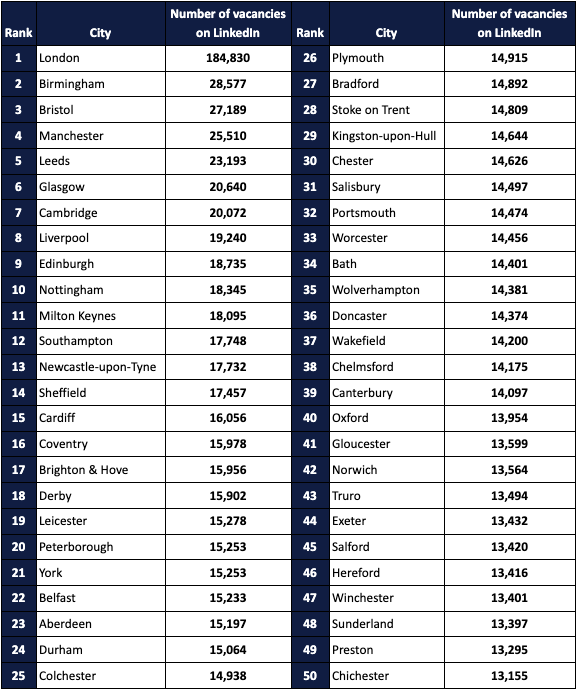 Which Industry offers the best employment rates?
Data released by the House of Commons Library in December of last year reveals the retail and wholesale industry contributed 14% of the UK's job market, as of March 2022, with roles in health and social care a close second at 13%. Professional & technical, admin & support and education industries round off the top 3, each sitting at a provision of 9% of the UK's total jobs from 2022.
Top industries based on number of jobs (as of March 2022)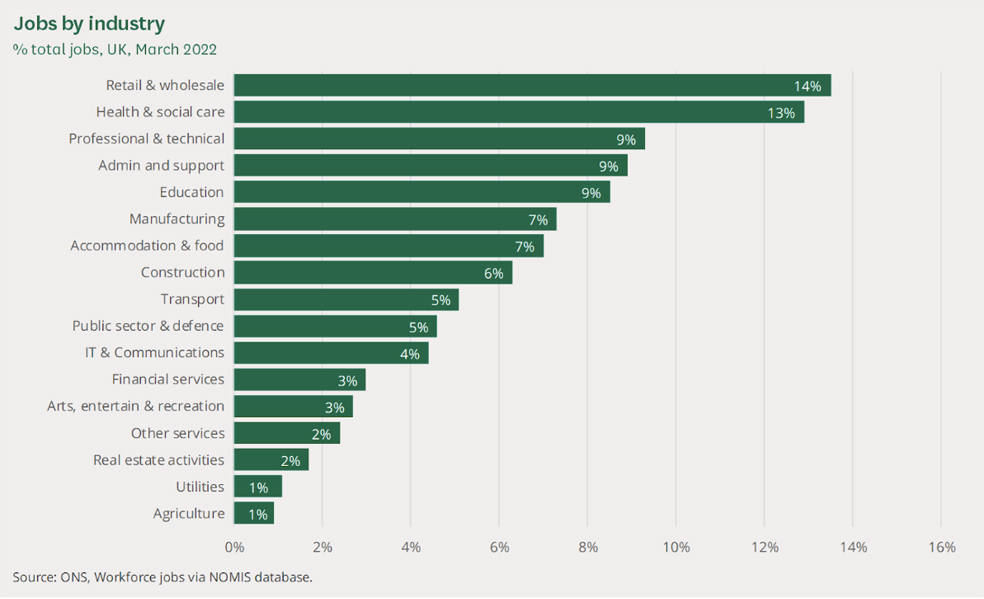 Should you be looking for a new job?
In all, our study has identified that many adults have either considered (or are considering) seeking a new job with a higher wage to offset the impact of the Cost of Living crisis. Money is tight, after all, and many of us are having to cut down on spending or dip into our savings to make ends meet.
We've also identified which cities are likely to offer the best chances at a new job and, through what we know from 2022, we have an indication as to the industries that are most likely to offer a high volume of job opportunities throughout the year. In closing, the last remaining question is perhaps the most important: is whether or not it is a good time to move jobs in the midst of our current economic climate.
Olivia Coughtrie, Director of Oriel Partners, comments:
"Last year the PA recruitment market in London was extremely busy, and we have seen hiring continue to be buoyant at the start of 2023. Candidates, who perhaps were cautious previously to move roles, are now confident in looking to secure new employment. In addition to this, we have a number of new vacancies advertised as businesses grow and return to being office based."
"Salaries have increased significantly over the last 12 months which has also stimulated movement in the employment market", Coughtrie continues. "Having the ability to earn more money alongside hybrid working remains one of the top requirements candidates have when searching for a new position. We are advising clients to be flexible around home working if they want to attract the best talent - even having the ability to be home based one day a week makes all the difference to a candidate."
"At Oriel Partners, we feel confident that the PA recruitment market will continue to remain strong during 2023, particularly as the admin and support industry was such a high contributor of the UKs total jobs in 2022."
If you're thinking about changing jobs to ease the pressure of the Cost of Living Crisis, you can browse our job board for current opportunities to find the role that's right for you.