PA roles are highly sought after in the UK and it's easy to see why. As well as being varied and rewarding, being a PA can be a lucrative career with many opportunities for progression.
In this article, we'll take a whistle stop tour through personal assistant salaries in different parts of the UK. We'll also aim to impart some pearls of wisdom along the way when it comes to getting a foot on – and moving on up – the PA career ladder.
What Is A Personal Assistant?
Personal assistants play a critical role in businesses and other organisations, often working closely alongside management to provide one-to-one administrative support. You might start out in an entry-level position and progress to be an executive PA for a CEO or director.
Common tasks carried out by a PA include:
Managing schedules and organising meetings and appointments
Acting as the first point of contact and dealing with correspondence
Arranging business travel and accommodation
Researching and compiling reports/presentations
Organising events and booking venues
Following the organisation's administrative procedures
Collaborating and communicating with staff and clients
Other miscellaneous tasks that are industry/sector specific
Personal Assistant Salary UK By Region
Personal assistant salaries can vary depending on where you work. London is by far the region with the highest average salary, with the average personal assistant earning an annual salary of £48,300. Of course, how much you get paid also depends on the sector the business operates in, its budget, what your responsibilities are and your experience as a PA.
How Much Does A Personal Assistant Get Paid?
Exploring the average UK personal assistant salary by location:
London: £48,300
Wales: £32,250
Scotland: £34,400
East of England: £34,400
South East of England: £36,000
West Midlands: £34,400
You might come across a full or part-time personal assistant hourly rate when researching roles, and these positions tend to be temporary. Like salaries, hourly rates can vary from minimum wage to much higher, depending on the factors mentioned above.
Celebrity personal assistant salary estimates come in at an average £72,000, while the highest paid personal assistants for private individuals earn up to £135,000.
The infographic below outlines a range of London PA & administrative support roles by salary. There are a variety of salary options from reception roles starting at £25,000 p.a. to Chief of Staff roles that can reach upwards of £140,000 p.a. and Private PA roles that can reach upwards of £135,000 p.a. This spectrum of salaries is an important consideration for prospective candidates.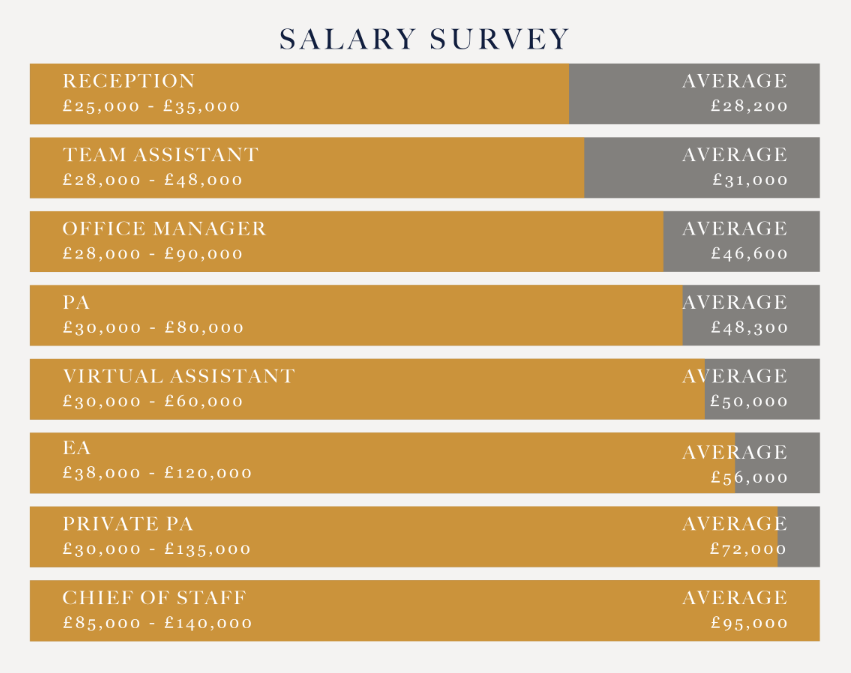 Image source: Oriel Partners
How To Get A Pay Rise As A Personal Assistant
To establish yourself as an excellent personal assistant, you should demonstrate that you're in possession of the following skills: organisation and time management, written and verbal communication, attention to detail and knowledge of relevant software systems.
As well as being competent at the role, it's just as important to embody traits like discretion, a willingness to learn new things and a proactive approach to challenges. If you're looking for a pay rise, understanding the average salary can also help inform your negotiations.
You could also tell your employer that you're interested in working towards a more senior role within the company. Be open to taking on more responsibilities (within reason) and keep a diary of your achievements so that you can reference them when requesting a raise.
Changing Faces: Virtual Assistant vs. Personal Assistant
Although many executives require in-person assistance, a growing number are employing professional PAs to work for them virtually. A virtual PA carries out many of the same tasks a tradition PA does, but remotely – from home or a shared office such as a coworking space.
We're seeing a marked increase in the number of virtual PA roles due to the coronavirus pandemic because many businesses are currently operating remotely. Pandemic or not, the rise in cloud and collaborative technology means remote working is on the up.
The average salary for a virtual assistant in the UK is £15 per hour. Bear in mind that salaries can vary a lot depending on the specifics of the role. Permanent or temporary, self-employed or employed, full or part time – all of these things make a difference.
Check out our VA job board here.
Becoming A Virtual PA
A virtual PA's role is still incredibly varied, even though the work is carried out in a remote context. As a virtual PA you can expect to handle administrative tasks, diaries, research and reports and the organising of virtual (or in-person) meetings, events and conferences.
You'll need to embody all of the skills and traits of a traditional PA, and then some. Because you'll be working from home, you'll have to be particularly adept at self-motivation, time management and problem solving. Excellent communication skills are key when it comes to building a rapport with your employer in a virtual role.
PA Career Goals – Reaching The Top
Most PAs begin their career in an entry level position within an organisation. There are many different ways to get your foot on the ladder. You can take part in a relevant university, college or apprenticeship course or gain experience and work your way into the role.
Once you've established yourself as a PA, progression within the role can be super quick. With hard work and dedication, you might end up in a senior position managing junior staff or become a PA (or EA) for a more senior person within the organisation.
As you'll have an insight into how the business/sector operates, you could also segway into another career, such as HR, marketing or management. Some PAs go on to start their own PA support agencies or opt for the VA route and work remotely for multiple clients.
Looking For A PA role? Talk To Us
If you're looking to kickstart your PA career or want to find that 'perfect' senior position, get in touch with the team at Oriel Partners and we'll help you. We match dedicated PAs with boutique firms, growing companies and prestigious households in London.
Feel free to explore our current personal assistant opportunities. When you get in touch, one of our senior consultants will talk you through the finer details of the role and introduce you to other opportunities that you might be interested in and qualified for.
We look forward to hearing from you!